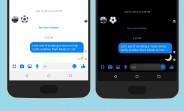 This week's poll was actually suggested to us by one of our readers. Dark themes are all the rage these days, claiming to conserve battery power and to protect the screen, but are they as popular with users as with software developers? Dark vs. Light on OLED There are proper arguments on both sides - darker themes do save power on OLED panels so going all black will help stretch your battery that little bit longer. There is also the subjective matter of aesthetics - whether you like the side bezels to blend in and if you prefer to read white text on a black background. Oh...
from GSMArena.com - Latest articles http://bit.ly/2YcYRYx
Weekly poll: Do you use dark themes?
Reviewed by
digital manu
on
May 05, 2019
Rating: