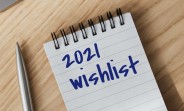 At the start of this year we asked you what will be the most exciting features of 2020 smartphones. Now that the year is almost over it's time to look back and see if makers delivered and to ponder what will be the highlight features of 2021 models. The winning feature of the 2020 poll was under display selfie cameras. The first production phone with an UD camera is now a reality, but there's just the one model and it's just now becoming globally available (our review is coming up shortly, by the way). The runner-up suggestion, cheaper foldable phones, also didn't come to pass....
from GSMArena.com - Latest articles https://ift.tt/34vxJt9
Weekly poll: What features you look forward to in 2021?
Reviewed by
digital manu
on
December 20, 2020
Rating: