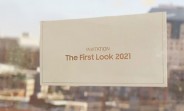 As reported by Telefoon NL, Samsung Netherlands' home page contains an invitation for an event titled "The First Look 2021". It's set to take place on January 6 at 4PM local time (11 AM EST) and details of the event are scarce. The same invitation can also be seen on Samsung's US home page, but this offers more information as to what the event refers to. This January 6 "First Look" event appears to have everything to do with Samsung's CES announcements and nothing to do with smartphones. The event 'save the date' was posted on Samsung's main page and the English version of the...
from GSMArena.com - Latest articles https://ift.tt/3hqO7k5
Samsung homepage mentions January 6 event, could it be the Galaxy S21?
Reviewed by
digital manu
on
December 29, 2020
Rating: