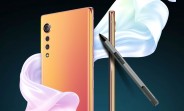 LG is trying to reinvent its image and introduced a new smartphone line-up, debuting with the LG Velvet. It's an odd phone, at KRW 900,000 ($735/€680) it's too pricey to be a mid-ranger, but that Snapdragon 765G chipset doesn't make it a flagship either. Still, the phone has a few unique features to make it stand out from the S765 rabble. It is both IP68 and MIL-STD 810G certified in the finest tradition of the V-series. Most of its competition settles for just the dust and water resistance of IP68 without the drop resistance of MIL-STD. The other is the support for a Wacom stylus -...
from GSMArena.com - Latest articles https://ift.tt/3bjbLu0
Weekly poll: LG Velvet is rugged and has a stylus, but does it have a future?
Reviewed by
digital manu
on
May 10, 2020
Rating: